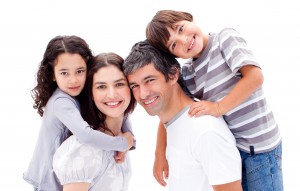 As life insurance needs change through your lifetime you can parallel those anticipated changes with multiple life insurance policies. A capital needs analysis or review reveals the money you would need to meet your current and future needs. This capital need can lessen over your lifetime as you accumulate assets.
For most families The years of child-rearing present the largest life insurance need to create capital for income replacement, child care, clothing, food, college education and the extras.
What plans are best?
 Young families may purchase a large personally owned term insurance plan, or combine it with a small amount of permanent life insurance, depending on affordability. The most important is that the family's needs are covered properly. Note: Group insurance from work may run out if you change your employment or lose your health. It is not owned independently thus there is no real control over such a plan. If possible shift monies paid for group term to your own term plan.
For empty nesters Life insurance needs may be less when the children have moved out. However if a wage-earning spouse dies, a life insurance benefit can offset the loss of income, pay off the mortgage and/or accrued debt, create an emergency fund, and help shore up capital needed for retirement. Thus life insurance is usually still needed.
What plans are best?
 If the capital need remains high, consider converting a portion of any term insurance you own into a permanent plan, or use a hybrid plan where term is mixed with permanent insurance. You may be able to reduce the face amount while adjusting the total coverage to meet your current need and work out an affordable payment.
Paying for final expenses During retirement every man and woman will one day present the need for his or her spouse or family to have capital to pay for final expenses in relation to and depending on the funeral expenses. Not everyone has saved up sufficient funds for this expense. Where there is life insurance it can save children and/or siblings the possible need to pay that expense for you.
What plans are best?
 It is wise to have a certain amount of permanent life insurance to offset these expenses. At the age of 50 plus consider converting some or all your term insurance if you do not yet own a permanent life-time plan. Aim to own at least $25-50,000 worth of permanent life insurance just to pay for the final expenses.