The need for Long-Term Care Insurance is increasing as medical intervention and medications keep us living longer.
Every year, about 50,000 strokes occur in Canada. A stroke is the leading cause of a transfer from hospital to a long-term care facility.
Nearly 10% (1 in 11) of Canadians over age 65 are affected by Alzheimer's disease or related dementia.
An increasing demographic (7%) of Canadians age 65 and over are residing in healthcare institutions.
An additional 28% of Canadians age 65 and over receive care for a long-term health problem, outside of a healthcare institution.
Sooner or later ageing baby boomers starting to enter retirement will increasingly depend on long-term care, offered by their children or professional health care services.
A study authored by Dr. Marcus Hollander and Neena Chappell of the University of Victoria found that approximately $25 billion dollars worth of unpaid care is provided willingly by family members and friends in lieu of paid care.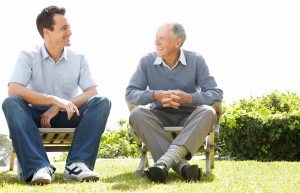 As the populace ages, more care for the elderly, such as respite care (additional home care services) will increasingly be needed to provide family members with the medical guidance and support they need to continue caring for their loved ones. With this in mind, are our families financially prepared to deal with costs associated with providing long-term care for loved ones?
Fewer hospitals offer long-term care A historic study which remains relevant, looked at a trend which revealed a 35.6% reduction in staffed long-term care beds in the extended care sector, from the late-80s to mid-90s, when our ageing population has been growing at an unprecedented rate. The baby boomer population is noticeably ageing. Canadians need to concern themselves with this question: Will governments be able to provide the necessary spaces and accommodate the increasing demand on the healthcare sector with regard to long-term care?
Source: Statistics Canada, pre-baby boomer info
What does Long-term Care Insurance (LTC) offer? Long-term care insurance provides money to pay for the care that you both desire and need. With LTC Insurance, you have:
Broader choices about the quality and amount of care you receive.
An increase of choices when determining where you receive care and by whom.
Sources: Canadian Institute for Health Information, Alzheimer Society website, Statistics Canada
Source: Some of the concepts and information are used with the permission of Patty Randall who is widely considered a leading advocate on the need for care-years planning in our country. Visit her website: "Aging Successfully with Passion and Purpose and Care-Years Planning" online at www.longtermcarecanada.com for discussions, ideas and to obtain family materials on this issue.